The body uses two forms of CoQ10. Ubiquinone, also known as the oxidized form, is better known and is used primarily for energy production in the electron transport energy cycle inside the cell. Ubiquinol plays a primary role in decreasing oxidative damage caused by lipid peroxidation within mitochondria. According to research, plasma ubiquinol is decreased in patients with hyperlipidemia.
There is evidence that suggests that the ability to convert ubiquinone to ubiquinol may diminish with age, resulting in diminished protection against oxidative stress and reduced energy levels. CoQnol™ (ubiquinol) may provide a strong initial stage defense against cellular oxidative damage and requires supplementing to maintain optimum health.
Researchers at East Texas Medical Center found that patients with advanced congestive heart failure taking high doses of ubiquinone CoQ10 were not able to achieve adequate improvements in blood serum CoQ10 levels. However, when switched to ubiquinol, blood CoQ10 levels improved dramatically with a consequential improvement in clinical symptoms and left ventricular function.
CoQ10 is also being studied for its effects on TNF alpha, and therefore on inflammation.
Consider taking CoQnol™ along with Q-Evail™ -highly absorbable ubiquinone.
Protocols
Congestive Heart Failure
Social Media Resources
CoQnol™
Click here to view our social media resource image.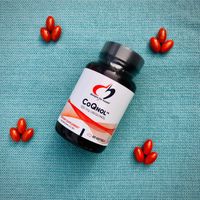 Who can benefit from CoQnol?*
Aging populations*
Those taking statin drugs*
Those with compromised heart and/or liver health*
CoQnol™ softgels contain CQ10 as ubiquinol, the more readily absorbed and more biologically active form that serves as an antioxidant. Coenzyme Q10 (CoQ10) is a nutrient that performs important functions throughout the body. It is particularly critical for the health of hard working organs like the heart, liver. Pancreas and kidneys. The most important roles CoQ10 plays are in energy generation and antioxidant function.*
*These statements haven't been evaluated by the Food and Drug Administration. These products do not intend to diagnose, treat, cure or prevent any diseases.
To learn more, click the link in our bio.
Recommended Use: As a dietary supplement, take one softgel per day with a meal, or as directed by your health care practitioner.
Legal Disclaimer
Actual product packaging and materials may contain more and different information than what is shown on our website.
We recommend that you do not rely solely on the information presented and that you always read labels, warnings, and directions before using or consuming a product or Book with one of BodyCrafters Physicians / Naturopathic Doctors or a Certified Natural Product Advisor.